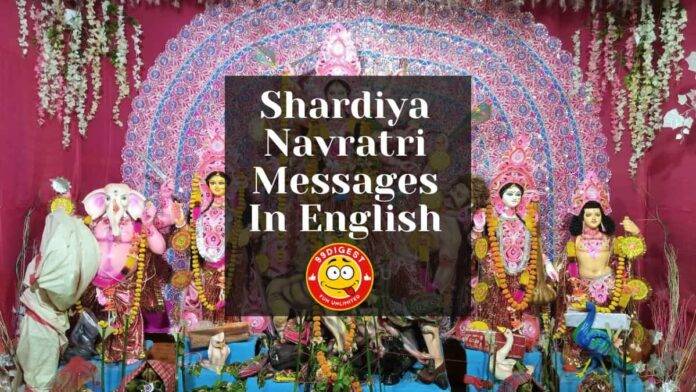 Shardiya Navratri: Embracing Divine Blessings
Shardiya Navratri, one of the most significant Hindu festivals, ushers in a season of joy, devotion, and celebration. This nine-night extravaganza, also known as Maha Navratri, holds a special place in the hearts of millions. In this article, we bring you a comprehensive guide to Shardiya Navratri, along with a collection of heartfelt messages to share with your loved ones during this auspicious time.
The Essence of Shardiya Navratri
Shardiya Navratri, which usually falls in September or October, is a celebration of the goddess Durga's triumph over the demon Mahishasura. The term "Shardiya" refers to the autumn season, during which this festival takes place. It's a time when the air is crisp, and nature itself seems to join in the revelry.
Navratri Rituals and Traditions
During Shardiya Navratri, devotees pay homage to the nine forms of goddess Durga, seeking her divine blessings. These forms include Shailputri, Brahmacharini, Chandraghanta, Kushmanda, Skanda Mata, Katyayani, Kaalratri, Mahagauri, and Siddhidhatri. The festival involves elaborate rituals, fasting, and daily prayers to honor the goddess's power and grace.
The Dance of Garba and Dandiya
One of the highlights of Shardiya Navratri is the exuberant Garba and Dandiya dances. People gather in colourful attire to dance in concentric circles, celebrating the divine feminine energy. The rhythmic beats of Garba and the clashing of Dandiya sticks create an electrifying atmosphere of joy and unity.
The Victory of Good over Evil
Shardiya Navratri symbolizes the victory of good over evil, light over darkness. It reminds us that, no matter how formidable the challenges we face, the divine will ultimately prevail. This message of hope and positivity resonates deeply with devotees.
Shardiya Navratri Messages and Wishes
In the digital age, we have the privilege of connecting with our loved ones instantly, even if they are far away. Shardiya Navratri offers the perfect opportunity to share heartfelt wishes and blessings through messages. Here are some WhatsApp messages, wishes, and quotes to convey your love and good wishes during this auspicious festival:
"May the vibrant colors of Shardiya Navratri fill your life with joy and prosperity. Wishing you a blessed Navratri!"
"As the divine goddess Durga descends to bless us all, may your life be filled with her divine grace. Happy Shardiya Navratri!"
"Let's celebrate the victory of good over evil and the triumph of light over darkness this Navratri. Wishing you a joyous and blessed festival!"
"May the nine nights of Shardiya Navratri bring you inner peace, strength, and happiness. Have a divine celebration!"
"On this auspicious occasion, may the goddess Durga bestow her blessings upon you and your family. Happy Maha Navratri!"
These messages are a wonderful way to connect with your friends and family during Shardiya Navratri. Spread the joy, positivity, and devotion that define this beautiful festival and make it a truly memorable experience for everyone.