99digest is growing day by day and sooner becoming a one-stop source for all types of messages in Hindi, English and some regional languages. Before start enjoying the best Holi messages in English, let us know some basic information about holi and its significance. Holi is a popular festival in India celebrated in almost every part of the country. Holi is also known as 'Festival of colours' and 'Festival of spring'.
On this day people apply colours to each other, play with water balloons and enjoy the day with sweets and dance. It is a festival of positivity that signifies the victory of good over evil. The festival celebration starts the night before Holi on full moon day with Holika Dahan, as people perform religious rituals in front of a bonfire where they burn their evil thoughts.
People make new friends on this day and also forget all the small and big issues, thus celebrating Holi with full zeal and energy. The festival also celebrates the divine love of Radha Krishna. We welcome spring through this festival and the end of winter. Everybody has their way to celebrate this festival.
You can make this day more special by sending the best Holi messages in English to your loved ones. Here are some of the Holi messages, wishes and quotes.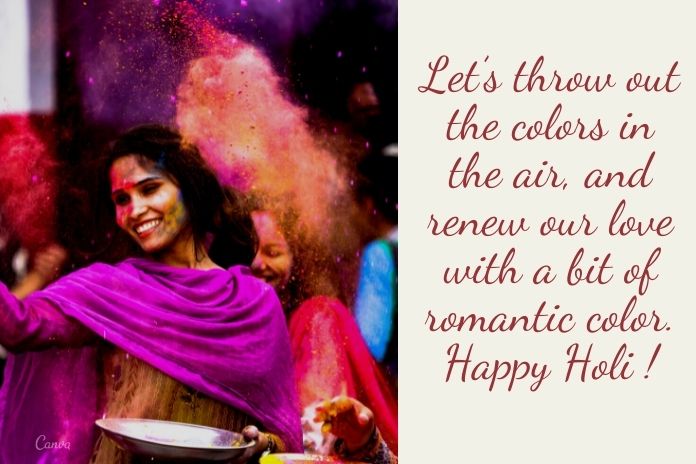 1
Red, Green, Yellow & Blue…The Colors of Holi remind me of you… 'Coz just like them you are so vibrant & full of fun.! May this festival of colors bring love and happiness in your life. Happy Holi !
2
"Red for love, green for prosperity, orange for success and pink for happiness. May God bless you and your family with all lovely colors forever." Happy Holi 2022
3
Make merry with colours on Holi and the rest of the days with love. Happy Holi !
4
Let's throw out the colors in the air, and renew our love with a bit of romantic color. Happy Holi !
5
Holi is the day to express love with colours. It is a time to show affection. All the colours that are on you are of love! Happy Holi !
6
May the fire Of Holi purify your heart, May the colors of Holi, color your life. May the sweets, sweeten the journey of your life. Happy Holi 2022
7
May God guide you in your journey towards success. Wishing you a very happy Holi.
8
Life is the most colorful festival, and enjoy all the days full of happiness. Happy Holi!!
9
"Best wishes to you and your family for a Holi filled with sweet moments and memories to cherish for long. Happy Holi 2022 "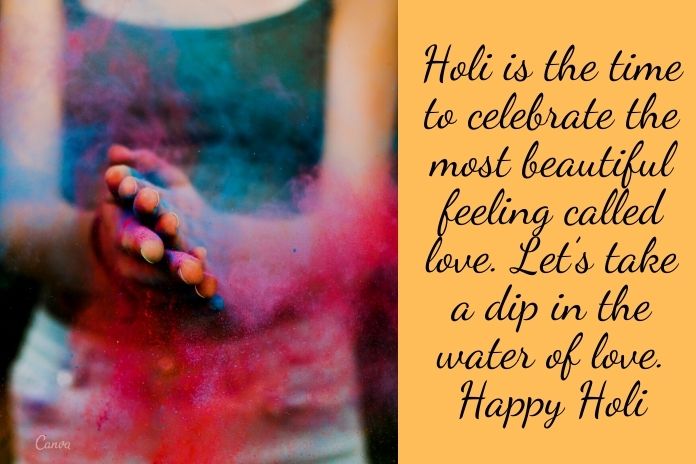 Best Holi Messages In English
10
The best part of the year has arrived. Its holi time, let me color you with all the beautiful colors and make sure you enjoy it to the best, happy holi!
11
A beautiful butterfly carries with is a colorful wish from a rainbow, just to inform you, there is no one like you in the world, you are the reason for colors in my life. Wish you a Happy Holi.
12
Holi is the time to celebrate the most beautiful feeling called love. Let's take a dip in the water of love. Happy Holi
13
On this beautiful festival of vibrancy and colours,let's reiterate our commitment to each other by sharing all the different shades of life. Happy Holi
14
Forgive your haters and ill-wishers and remember those who are near & dear to you with splashing colors. Happy Holi
15
Not every day is going to be equally cheerful and colorful,so store the brightest colors in your heart for every day.Happy Holi my dearest!!
16
Reach out to others with the colors of joy and spread happiness wherever you go this Holi.
17
The colors we play with, touch not only our face but our heart too, by making us filled with happiness and joy. Happy Holi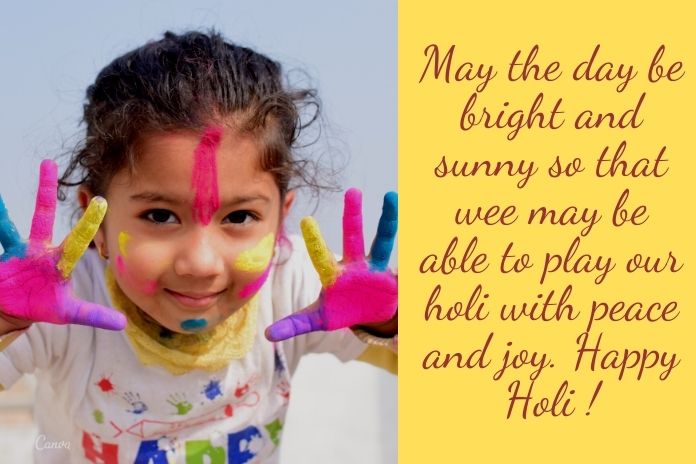 Best Holi Messages In English
18
May God paint the canvas of your life with the colors of Joy, Love, Happiness, Prosperity, Good Health, and success. Wishing You a Verry Happy Holi.
19
This 2022 Holi may bring lots and lots of colorful seasons and days in your life filled with plenty of happiness and love. Wish you a very Happy Holi
20
May the day be bright and sunny so that wee may be able to play our holi with peace and joy. Happy Holi !
21
Be a free spirit to play with color Play Dry Holi and Save Country from Water Crisis. Happy Holi
22
May this splendid festival Spread colorful joy, wealth, Celebration and remove sorrows And ignorance in your life. Happy Holi!
23
Bright colors, water balloons, lavish gujiyas, and melodious songs are the ingredients of perfect Holi. Wish you a very happy and wonderful Holi
24
May this festival of colors fill colors in your life. To every shade of you, I wish happy and colorful holi!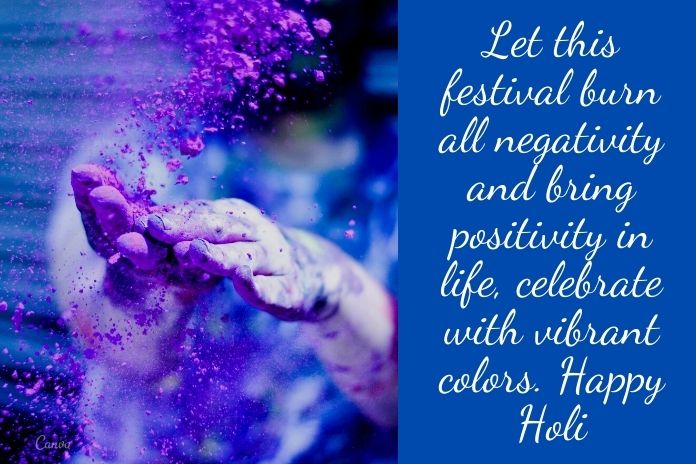 Best Holi Messages In English
25
The colors of Holi symbolize the colors of love, trust, and understanding between one another. So play with the colors and may the air be filled with love. Happy Holi
26
Let this festival burn all negativity and bring positivity in life, celebrate with vibrant colors. Happy Holi
27
May all the 365 days of the year be as merry as the day of Holi. Happy Holi !
28
You're so beautiful and I wish to apply some colors on you to make you more beautiful on this Holi. Happy Holi
29
Let the colors of Holi,spread the message of peace and happiness. Happy Holi!!
30
It's the time to unwind, de-stress, and to make a bond with sweets, thandai, and colors. Happy Holi 2022
31
All are child inside and this festival will bring out the child in us. So, let's celebrate the color festival.. Happy Holi
Best Holi Messages In English
32
The more the color, the more the sweets, and the happier you be. Happy Holi
33
Colors of happiness.. Colors of friends, Colors of love and color of prosperity. May you enjoy all the colors of Holi. Happy Holi
34
Let us make this Holi memorable be splashing colors of love on each other. Happy Holi My Love
35
Hey dear, Holi is Here, Pinch of Red and a pinch of green, Joyful colors all are seen, With love and with happiness.
36
May your new venture be successful and God continue to shower his blessing upon you.Happy Holi !!
37
May the spirit of Holi bring you joy, The gladness of Holi give you Hope, The warmth of Holi grant you cheer. Wish You A Very Happy Holi
38
Playing more drinking less,loving more thinking less.This Holi spread the colors of positivity & motivation all around you. Happy Holi 2022!
39
If wishes come in rainbow colors then I would send the brightest one to say Happy Holi.